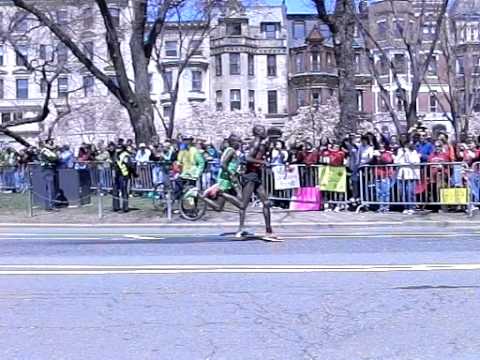 Runblogger gets technical in a blog post elaborating the running gaits of different participants in the 2011 Boston Marathon. Looking at footage of the top eight runners (well, top four males and top four females), Runblogger dissects the intricacies of their running form in the hopes of discovering patterns or commonalities. He finds none.
Alright, that's not entirely true. The top male and female finishers had some interesting similarities – their swing time and their stance time (read: their gait). Female champion, Caroline Kilel, had an upright posture, midfoot foot strike, slight lean, and lower arm carry. Similarly, Geoffrey Mutai, male champ, also had a midfoot foot strike, slight lean, and lower arm carry. Interesting. . .
However, these were just the winners. Out of the top eight finishers (all world-class runners with kick-butt finish times) there really was no consensus in form. Upper arm carry, head back, lower arm carry, help foot strike, toe foot strike, lowered posture, etc.; all were witnessed techniques of these elite eight.
So what does that mean for us non-record-setting runners? Is there an exact foot-strike pattern, gait, or posture to follow to optimize our performance? Runningblogger's results seem to suggest not.
Do not fret over the fine points of running, just get out there and do it. Work on building up your muscle strength, lung capacity, and endurance. Work on perseverance. Work on distance. Work on speed. Don't work on more precisely imitating Kilel and Mutai. I mean, at least until the next time you're planning on running the Boston Marathon. . .